Those who participate get some rather interesting offers!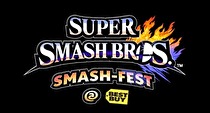 Those who participate in this week's Smash Fest at Best Buy are getting some good deals for participating.
Reports on Twitter are indicating that people who participate in the event across select Best Buy retailers are being offered coupons for participating in these events. Coupons include $20 off select Wii U games such as New Super Mario Bros. and Donkey Kong Country: Tropical Freeze, $30 off select Wii U and 3DS systems, and 10% off Wii U and 3DS accessories.
It is not known if this is for specific stores only or if it is a nationwide event. If you have played Smash Bros. this week at your local Best Buy, let us know in the talkback below!