This RPG from Level-5 will come to North America in October.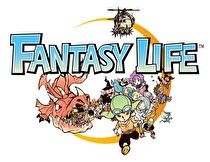 Fantasy Life, a 3DS RPG developed by Level-5, is coming to North America in October. The game was originally released in Japan in December 2012 and has been rumored to come out in other territories for quite some time.
Gameplay in Fantasy Life revolves around inhabiting 12 Life classes which players can switch between at almost any time in order to utilize different abilities. Players can inhabit the roles of fighters, crafters, gatherers, lumberjacks, fishermen, and more. As those choices imply, some classes are suited for combat and others for more peaceful activities, so players' preferences will shape their experiences as they explore an open world and customize their lifestyles and living quarters.