Rumor is now reality.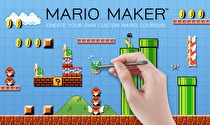 Mario Maker for Wii U was shown during the Nintendo Digital Event.
Players will be able to make their own Mario levels using the GamePad's touch screen, with art styles from both the New Super Mario Bros. series and the original Super Mario Bros. NES game shown. Players can switch between the two looks with the tap of an icon.
Mario Maker is due for release in 2015.