The pink puff will be rolling around your GamePad in 2015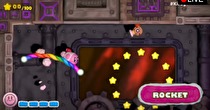 Kirby is coming to the Wii U in the form of Kirby and the Rainbow Curse.
Set to release in 2015, the game will feature a new art style, making the game look like it is made out of clay. Controlled using the GamePad, the game is similar to Kirby's Canvas Curse, with players drawing lines using the stylus to move Kirby as a ball throughout the game.