Amiibo will first come to Super Smash Bros., then later to other games.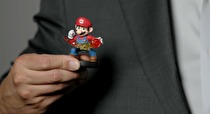 New details regarding Nintendo's NFC figures, now called "Amiibo," were revealed during the E3 Digital Event.
Super Smash Bros. will be the first game to use these figures, with the initial set of Amiibo releasing alongside Smash Bros. for Wii U. The data transfers both from the figure to the Wii U GamePad and vice versa, allowing the chip data within the figures to change over playtime. This will lead to stat increases, leveling up, and more, allowing it to evolve as a fighter.
Players will be able to fight Amiibo characters, or even have them join the same team. They can even fight each other, and will actually level up faster than if they fight CPUs or real players. On top of all these capabilities, the Amiibo's special moves will be customizable, so players can train and expand their tactical abilities.
Amiibo will be compatible with other games, including Mario Kart 8, Mario Party 10, Captain Toad: Treasure Tracker, Yoshi's Woolly World, and more. A peripheral for the 3DS will be available next year as well, allowing Amiibo to be used in certain 3DS games. Here is a list of the revealed figures, but even more are in the making.
Mario
Link
Samus
Peach
Bowser
Donkey Kong
Pikachu
Yoshi
Kirby
Animal Crossing Villager
Wii Fit Trainer