The mega hits keep on coming.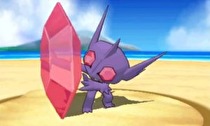 Sableye is the latest Pokémon to get a Mega Evolution.
Introduced in Ruby and Sapphire, Sableye gets a whole new look upon evolving into it's Mega Evolution. What is most interesting is Mega Sableye uses a shield similar to the jewel seen in it's chest, perhaps to raise defense. No word on what typing or ability Sableye obtains upon Mega Evolution.
As announced on Tuesday, Pokémon Omega Ruby and Alpha Sapphire are due for release on November 21. Check the trailer below for the first glimpse at Mega Sableye.