All Hoenn starters will now have Mega Evolutions.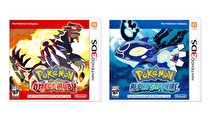 New Mega Evolutions for specific Pokémon have been revealed in the latest issue of CoroCoro magazine.
Swampert, Sceptile and legendary Pokémon Diancie all have new Mega Evolutions in Pokemon Omega Ruby and Alpha Sapphire. Mega Swampert retains his type, but now has the Swift Swim ability. Mega Sceptile is now Grass/Dragon and it's ability is Lightning Rod. Diancie's ability and type is currently unknown.
On top of this, the rumored Mega Evolutions for main legendaries of the Ruby/Sapphire games Kyogre and Groudon have been confirmed in a sense. These new forms they will obtain are called "Ancient Devolutions." The forms are called Primal/Prehistoric/Primeval Groudon and Kyogre, respectively.
Other items have been detailed in CoroCoro magazine as well. Steven Stone returns, as he is looking for the secret of Mega Evolution and has a Mega Charizard with him. The Acro and Mach bikes are back as well. Both Team Aqua and Magma return with their respective admins and leaders touting new redesigns.
Pokémon Omega Ruby and Alpha Sapphire are due for release in November on the 3DS.