Tomodachi Life, Zelda: Minish Cap, I've Got to Run and more this week!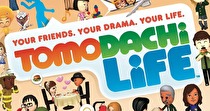 Busy week in the Nintendo Download. Lots of new titles for the Wii U as well as the 3DS, which has the biggest release this week with Tomodachi Life. With E3 coming next week, might we see some new surprises in next week's Nintendo Download? No one knows for sure, but the week will be exciting regardless. Let's run down the releases today!
Nintendo Wii U Downloads
How to Train Your Dragon 2- $39.99
Based on the CGI movie of the same name, looks like you'll be training dragons. Maybe. I don't really know, CGI animated movies aren't my thing, really. I did like Wreck it Ralph, though. Maybe this is like Wreck it Ralph, but with dragons.
I've always wondered what marshmallow boy is running from. Is he running away from responsibilities? Life? A giant dragon? Many questions remain unanswered. But what I do know is that I've Got to Run is out today, and for a cheap price.
1001 Spikes is a retro inspired 2D platformer that, from the looks of it, tends to be a difficult game. I would probably rip my hair apart trying to play this game, and maybe cause damage to my 3DS in the process, so maybe I should avoid it. People with nice temperaments only, please.
Chubbins is all about a bouncing rabbit. Good thing, because this game is aptly named–the bunny is a bit plump. Look, I know it's not nice to call others fat, but hey he's bouncing around various levels, perhaps losing weight in the process. So good for him, he's doing something about it.
Nintendo Wii U Virtual Console
The Legend of Zelda: The Minish Cap - $7.99 (May 30)
Only one Virtual Console title is out this week, but hey it's a big one! Minish Cap is one of the Zelda games I haven't played, but a lot of people like this title. It involves Link wearing a silly hat that tells him things. I don't think that would fly in real life.
Nintendo 3DS Downloads
Tomodachi Life - $39.99 (June 6)
Praise be to the Virtual Boy, Tomodachi Life has finally made it to North American shores, but not without some controversy. But regardless, if you want to preform stage shows, make a bunch of friends and have bizarre dreams, this seems to be up your alley.
More platform craziness ensues on the 3DS with this version of 1001 Spikes. I wonder why it had to be 1001 Spikes. 1000 seems like a good number to me. Now I'm going to be up all night trying to figure out why they needed 1001...
How to Train Your Dragon 2- $29.99
Training dragons sound hard. I have a tough enough time raising a dog, but dragons? Maybe it depends on the type of dragon, like an ice dragon wouldn't be so bad during the summer, right? I'd probably need to get it defanged either way.
Finally, you shall achieve zen. Not by the Wii U, although you can nab that version as well, but also on the 3DS. By matching colors, you'll reach nirvana. Or maybe just have a fun time, either one works.
Sales
Conception II: Children of the Seven Stars is down to $29.99 on the 3DS eShop through 9 am PT on June 9.
The Just Dance series is having a sale as well on the Wii U eShop. Get 50% off all titles through 9 am PT on June 9.
Bit Boy!! ARCADE is 40% off starting today through June 26 at 9 am PT.
Treva Entertainment is discounting their titles, including Riding Stables 3D and Riding Stables 3D: Jumping for the team through June 25 at 9 am PT.