Newly revealed details include the tournament character roster and the addition of a secondary Fan Favorite bracket.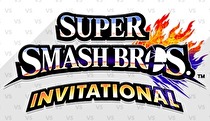 Nintendo has finally announced significant details for the E3 Super Smash Bros. Invitational tournament, including the roster of challengers, rules, and more.
A limited selection of only twenty characters will be available for the challengers to pick from. The sixteen tournament participants will draw numbers from a hat to determine the order in which they will choose their fighters, with each character having only one representative player. They will be locked in to play as that same fighter throughout the entirety of the tournament.
The main bracket will follow a single-elimination format, with four-player, four-stock matches played on a five minute time limit. The top two players for each match will advance to the next round. Second place ties can be broken by looking at who has the most kills. If that's a tie as well, a fan vote will be the determining factor. For the main bracket Quarterfinals, Items will be set to Medium, and they'll drop the setting down to Low for the Semifinals and Finals.
The Grand Finals will have a setup inspired by the competitive Smash Bros. community, featuring an eight minute long, four-stock one-on-one match with Items turned off, set on the Battlefield stage.
There is also going to be a secondary Fan Favorite bracket, which will be voted on by fans in attendance at the event. Votes will take place after each Quarterfinal and Semifinal match of the main bracket and are supposed to be based on who the audience feels "performed with the most heart, courage, creativity, and style."
The Fan Favorite bracket will be single-elimination as well, with up to four players per match and a five minute time limit. Two players from each match will advance, one determined by the number of kills and the other by fan vote. Items will be set to medium on all rounds. The Grand Finals of this bracket will be determined strictly by score.
The event will be hosted by Geoff Keighley, with commentators Wynton "Prog" Smith, Bobby "Scar" Scarnewman, and D'Ron "D1" Maingrette calling the action.
The roster of participants is as follows:
Lilian "milktea" Chen
Hugo "HugS" Gonzalez
Ken "LiquidKen" Hoang
Daniel "LiquidKDJ" Jung
Neha "Lilo" Chhetri
Kris "Toph" Aldenderfer
Hendrick "DJNintendo" Pilar
Sam "PeachyHime" McNaughton
Juan "Crs. Hungrybox" Debiedma
Kevin "EG PPMD" Nanney
Kevin "PewPewU" Toy
Dakota "TheRapture" Lasky
Cristin "Crismas" DeSaro
Masaya "aMSa" Chikamoto
McCain "MacD" LaVelle
Gonzalo "CT ZeRo" Barrios
The tournament character roster will be limited to the following:
Little Mac
Zero Suit Samus
Wii Fit Trainer
Bowser
Marth
Mega Man
Pit
Villager
Pikachu
Mario
Link
Kirby
Samus
Rosalina and Luma
Sonic
Donkey Kong
Greninja
Pikmin and Olimar
Zelda
Fox
You can also check out more details on the event here, along with a video rundown of today's announcement from Nintendo below.