Get ready for Smash Bros. by breaking out your old GameCube controllers or possibly buy new ones.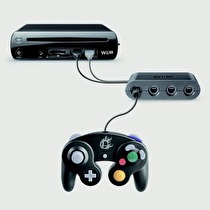 A GameCube Controller Adapter is coming to Wii U to be used with Super Smash Bros. It also appears that Nintendo will release new GameCube controllers with a Smash Bros. logo on them, too. We have reached out to Nintendo for confirmation.
The controller adapter will allow four GameCube controllers to be plugged into a USB-powered device. The adapter, however, will take up both of the front USB ports on the Wii U.
It is unknown if this device will only work with Super Smash Bros., but it seems likely that the addition of this device could open the way for GameCube controller functionality in Virtual Console games.