A special surprise? It better be Zelda related...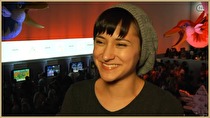 On Tuesday, Zelda Williams took to Twitter to tease a personal appearance and a surprise at E3. The daughter of Robin Williams is best known to gamers as the girl famously named after Princess Zelda, who appeared in the commercials introducing Ocarina of Time's 3D remake.
In her initial tweet, Williams simply mentioned that she would be doing something "extra special" and "more details soon". Later, she responded to a few followers saying only that it wouldn't be what people think.
Fan speculation surrounds her appearance being tied to the reveal of the Zelda Wii U title, first teased back in 2011, or possibly even the remake of Zelda Majora's Mask that has been in high demand since Ocarina of Time's re-release. But since Williams has been mum about the appearance since her only response, it seems we all just have to wait and see.