Perfect chance to spend those expiring points.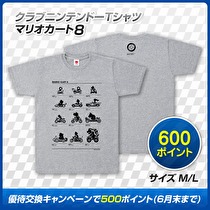 May 29 will see the release of a Mario Kart 8-themed t-shirt for Japan's Club Nintendo members, arriving on the same day as the game itself.
The shirt is grey; it features twelve racers on the front such as Bowser, Toad, Mario, and Donkey Kong, and it will be available for 600 points in medium and large. A special deal offers the same shirt for only 500 points to those members who register a physical or digital copy of Mario Kart 8 on Club Nintendo by June 30.
There is no information at this time from Nintendo on whether or not the t-shirts will be making their way west.