Pushing your way onto the Wii U on June 19 all over the world!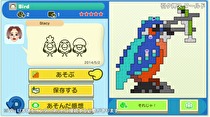 Update: Pushmo World is also coming out in North America and Europe on June 19.
Pushmo World is coming to the Wii U eShop next month in Japan.
The game will be released on June 19 for 1,000 yen and will be 1 gigabyte in size. It appears to be similar in scope to the original with 250 new puzzles and will allow players to create their own puzzles on the GamePad. Created puzzles can be shared via Miiverse and can also be shared across Wii U and 3DS versions of the game using QR codes. However, not all of the Wii U puzzles will be able to be shared on 3DS. Additionally, Miiverse stamps can be unlocked during gameplay.
Developed by Intelligent Systems, Pushmo World has you sorting and shifting puzzle blocks around. The goal of the game is to save children locked in these puzzles by shifting the blocks in the right order. It first debuted on the 3DS eShop in late 2011. A sequel, Crashmo, came out on 3DS the following year.
Check out the trailer below!