The game comes to the European 3DS Virtual Console 28 years after its Famicom Disk System debut.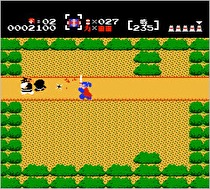 The Mysterious Murasame Castle has been scheduled for a May 29 release on 3DS Virtual Console in Europe. A Nintendo-developed title published in 1986 for the Famicom Disk System, it has previously never been made available outside of Japan.
The game, a contemporary of The Legend of Zelda, is viewed from a top-down perspective, with players navigating environments one screen at a time in a manner similar to that title. However, its gameplay is more linear than Zelda, featuring a time limit and higher emphasis on action. The story revolves around a mysterious force threatening Edo period Japan, and thus prompting a samurai apprentice named Takamaru to battle through a series of four castles to reach the once-peaceful titular castle and rid it of evil.
Nintendo has rarely made reference to The Mysterious Murasame Castle in the 28 years since its release, especially to Western audiences. There have been a few exceptions, most notably the Nintendo Land attraction Takamaru's Ninja Castle. Takamaru was also a playable character with his own special mode in the Wii version of Samurai Warriors 3 and was seen as a sticker in Super Smash Bros. Brawl.
Unfortunately for many hoping to get their hands on this long lost curiosity, The Mysterious Murasame Castle has yet to be announced for any new territories other than Europe, though it has been rated by the Australian Classification Board. For more on the game, check out our review of its Japanese 3DS Virtual Console release.