The Capcom-developed Game Boy Advance Zelda game is coming soon to a GamePad near you.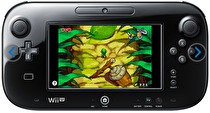 The Game Boy Advance game The Legend of Zelda: The Minish Cap is heading to the Wii U Virtual Console on May 29 in Europe. It has been announced for an unspecified date in North America, as well, with simultaneous release in the two territories likely but unconfirmed.
Originally released in 2004 in Europe and Japan and 2005 in North America, Minish Cap features the villain Vaati and tells the origin of the Four Sword. The main gameplay hook centers around the titular hat, which talks to Link and also shrinks him to miniature size.
The Minish Cap is directed by Hidemaro Fujibayashi, who most recently directed The Legend of Zelda: Skyward Sword. For more info on Fujibayashi, read our feature on his history.