A jaunty new color lands alongside the release of Tomodachi Life.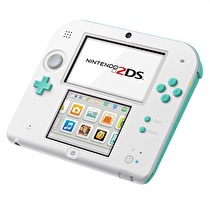 A new color option will soon be available for Nintendo's 2DS line of systems.
The Sea Green 2DS is scheduled for release on June 6 for a suggested retail price of $129.99. It features a white front and back with Sea Green coloring on the directional pad, face buttons, stylus, and edges.
This is the first widely-available new color option for the hardware since the initial 2DS launch in October of last year. Only black systems accented in Crimson Red and Electric Blue can be found in most North American stores to this point, with the lone exception being the GameStop-exclusive limited edition Peach Pink version. Nintendo recently reported in its annual fiscal results that 2DS sales had reached 2.2 million units worldwide by March 2014.
June 6 is also the release date for Tomodachi Life, Nintendo's upcoming quirky Mii-centric simulation title. Rumors first began circulating regarding this new color when images depicting the Sea Green system were found in the source code of the game's official website.