Freshly announced features include crafting ability-augmenting badges. Plus, we get our first look at Impa as a playable character.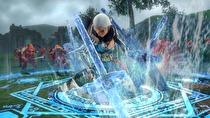 Hyrule Field is the location of the first level of the summer Wii U release Hyrule Warriors, according to a recent press release from Nintendo of America. Additionally, the upgrade systems for weapons and character abilities were detailed.
Today's news solidified and expanded upon some of the recent info coming from Japanese outlets. The plot focuses on the evil deeds of the Sorceress Cia (Shia in the Japanese version), and there is mention of a kidnapped Zelda and a "disruption in the delicate balance of the Triforce." Impa was also reconfirmed as a playable character.
In addition to the familiar setting of the first stage, the rest of the game is set to proceed as a "tour de force through the beloved locales of Hyrule," so expect to see more traditional Zelda environments. Populating these levels are old enemies, such as Bokoblins and Lizalfos, as well as new ones.
As players proceed through the levels to uncover the main storyline, many playable characters with unique weapons and moves will be unlocked. Their weapons and abilities can be upgraded, as well, via collecting Rupees and other items throughout the game. Abilities seem to be upgraded through the crafting of badges, though this process has not yet been detailed.
Hyrule Warriors is due out August 14 in Japan and is currently listed as a summer release in North America and Europe. The game should be playable at E3, so expect more details then.