Downloads! Get your (DSiWare) downloads!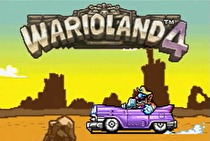 It's an odd week, this one, but still somewhat decent. We see two Mega Man titles as promised thanks to Capcom's Mega May promotion, while quirky platformer Wario Land 4 lands on the Wii U Virtual Console. Unfortunately, there are no original Wii U eShop games out this week (again). There are, however, three new DSiWare titles if you're still living in 2010. Don't worry, no one's judging you.
3DS eShop
THE "DENPA" MEN 3 The Rise of the Digitoll - $9.99
The Denpa Men are back yet again for you to capture and use to save a special someone (wink wink). This time 'round, the Denpa pals have their own home that you have the ability to customize to your liking. You can also lend Denpa Men or trade items with players online. If that's not enough, players are able to import their hero and Denpa Men from the previous installments.
Grinsia - $9.99
Who doesn't like treasure? Set in a world created by twin Goddesses, you'll play as a family of treasure hunters in this JRPG. Word on the street is, somewhere in the Empire is an ancient ruins recently unearthed. There might be some sweet payoff there.
Parking Star 3D - $2.99
Can't get enough parking in real life? Don't worry, we've got you covered. Try and park cars as fast as you can without getting into a bender. It's the leisure game that simulates real parking, including 40 maps containing different sceneries for your exploration.
Wii U Virtual Console
Wario Land 4 - $7.99
Oh, what's this? More treasure? Control Wario through a cursed pyramid for the love of loot. The game contains 20 puzzle-packed levels, where you'll have to transform Wario into a zombie, or even a vampire bat to find it all. It's a classic.
3DS Virtual Console
Mega Man II - $2.99
We're lucky enough to get two games in this week's Mega May releases. Mega Man II features a bit of time travel, as Dr. Wily has stolen the Time Skimmer that lets he travel to the future. Oh you naughty Dr. Wily, you. Help Mega Man infiltrate and underground lair and kick some Robot Master butt!
Mega Man III - $2.99
Dr. Wily, will you ever quit? This time, he's overthrown an oil rig and plans to drill to the core of the globe. It's for a good cause though, to power his latest invention. Brilliant, huh? Time to stop him in his tracks.
Sales
Aqua Moto Racing 3D (3DS) - 25% off until 9:00 a.m. PT, May 22
ATLUS Sale (3DS)
Etrian Odyssey Untold: The Millennium Girl & Etrian Odyssey IV: Legend of the Titan on sale from May 12 until 9:00 a.m. PT on May 19
Joindots Sale (3DS)
3D Games Collection, Jewel Match 3, & Murder on the Titanic on sale until 9:00 a.m. PT, May 22
Trine 2: Director's Cut (Wii U) - 50% off from May 12 until 9:00 a.m. on May 19
Demos
THE "DENPA" MEN 3 The Rise of the Digitoll
Gardening Mama 2: Forest Friends
DSiWare
Jewel Match - 500 Nintendo Points
Containing 150 levels, this match 3 games comes with three game modes: relaxed, play out, and two player mode.
Jewel Quest 4 Heritage - 800 Nintendo Points
Another puzzler, where players can swap jewels and collect puzzle pieces. The game ventures through various shrines and castles of Hernan Cortes, so it might be worth checking out if you fancy conquistadors.
Sokomania 2: Cool Job - 200 Nintendo Points
Manual labor, the video game. Looks like you'll be pushing around some crates, and maybe pushing around some more crates in this factory puzzler.