The buttons, they are a-changin'.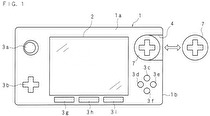 Nintendo has filed a patent for a handheld with switchable buttons.
The patent was filed in October of last year, but was published a mere week ago. The diagrams resemble the lower, touch screen half of a 3DS, or even the Wii U GamePad. Either way, it features four different control sets, all being interchangeable. Examples include switching a D-Pad out for a four-button face, an analog stick for a D-Pad, or whatever else your heart desires.
Having this patent filed lets us peer into another idea being brewed at Nintendo, but certainly does not guarantee anything. Patents are created often for multiple reasons, so it's best keep your hopes in check.