Is this game Pokémon X Tekken?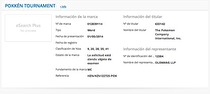 Nintendo has registered the trademarks Pokkén Fighters and Pokkén Tournament in Europe.
Last year the trademarks were registered in North America, alongside a video from the Tokyo Game Show giving us a glimpse of what appeared to be a Wii U Pokémon fighting game at the end. The one shot of this game showed a Mega Blaziken and a Mega Lucario facing off in a city.
Now that the trademarks have appeared again, it's likely we may find out what this is come E3.