As if McDonald's Monopoly didn't already kill your diet for the next year.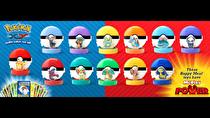 Pokémon Happy Meal toys are slated to be the next set of toys released in restaurants across America.
After toys promoting The Amazing Spider-Man 2 disappear, a set of twelve toys themed from Pokémon X and Y are to take their place. Judging from the promotional image released, the toys appear to be flat cardboard or plastic Pokémon in front of Pokéballs that will come with corresponding official Pokémon trading cards.
In these Happy Meals, there will also be a barcode that can be scanned and synced up with McDonald's McPlay app to unlock a small mini-game.
There has been no news yet regarding whether or not these toys will eventually release in other regions.