Buy a new 3DS XL, get a voucher for a free game!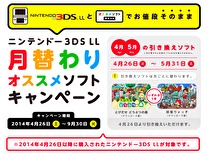 Nintendo is set to start a new campaign on April 26 in Japan that will give purchasers of new Nintendo 3DS XL units a voucher for a free game. The campaign, roughly translated as the Nintendo 3DS XL Monthly Recommended Software Campaign, gives new 3DS XL owners the choice of two games to download for free on the eShop. The first two games available will be Animal Crossing New Leaf and Yo-kai Watch. The games in the campaign will change on a monthly basis so users can hold their vouchers up until they expire on September 30. Future titles for the monthly campaign have yet to be announced.
The 3DS XL, known as the LL in Japan, retails for 18,000 yen for a stand alone unit. This campaign is currently exclusive to Japan.