Players can now add their personal touch to the character's attacks.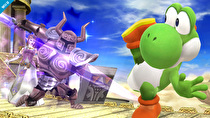 The option to customize movesets from a catalogue attacks will be included in the upcoming Super Smash Bros. for Nintendo 3DS and Wii U, game director Masahiro Sakurai confirmed during today's special Nintendo Direct.
Players will be able to make adjustments to each character's default moveset, with examples including a larger, slower Fireball for Mario, a more powerful but longer-to-charge Headbutt for Donkey Kong and a variation on Kirby's Swallow ability that instead freezes the opponent in a block of ice. These customizations can be employed in both local and online play, although only in the 'With Friends' sub-section of the latter mode.
More details on this brand new feature will be revealed some time in the near future.