Now independent characters, these veterans come with a few new moves.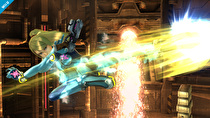 Zero Suit Samus and Sheik will feature as playable characters in Super Smash Bros. for 3DS and Wii U, this time as completely independent fighters.
During today's Nintendo Direct, game director Masahiro Sakurai confirmed that these fighters will no longer change form from Samus and Zelda, respectively -- a change from past games in the series.
Having previously appeared in Super Smash Bros. Brawl on Wii, Zero Suit Samus is now entirely separate, as opposed to only being accessible upon completion of Samus' Final Smash attack as in the prior entry in the series.
Her offensive move-set still revolves around her emergency pistol/energy whip, but she now sports jet-powered boots that provide improved mobility and recovery.
Shiek, who made her series debut in Super Smash Bros. Melee on GameCube, has new attacks, such as a close-range explosive known as Burst Grenade, which replaces her old Chain side-special move, and an acrobatic kick technique named the Bouncing Fish.