A tie-in to the upcoming movie and Pokémon's support of the World Cup 2014.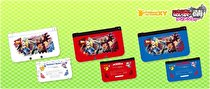 Three new Nintendo 3DS LL units, known as the Nintendo 3DS XL in the west, have been revealed for the Japanese public.
The models are tie-ins to both the upcoming Pokémon movie and Pokémon's support of the Japan national soccer/football team. The models all have a decal of Ash, Xerneas and Yveltal from the movie on the front, with Pikachu and Diancie on the back. Each unit will be given at a specific home game for one of three teams, which are FC Tokyo, Yokohama F Marinos and the Urawa RED Diamond. The amount of units will be decided by goals that the teams make in a select match and the winners of these units will be decided in a raffle.