For a limited time you can become a real Pokémon Master.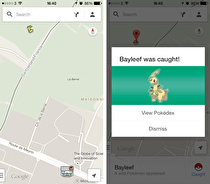 It was announced by Google that iOS and Android users who use Google Maps will be able to scour the world in search of Pokémon. The application updated earlier today and was accompanied by an April Fool's video on the Google Maps website, however, users will actually be able to catch the elusive Pocket Monsters in a small way.
In Google Maps, users can scroll across the globe and find the sprite versions of Pokémon in places like Central Park, Tokyo Tower and the Vatican. There are currently 150 different Pokémon available for capturing around the world.
In the video, Brian McClendon, Google Maps Vice President, stated that users who catch every Pokémon will be invited to the final round of hiring for the position of "Pokémon Master" at Google Headquarters. At the end, a disclaimer revealed the position would only be open after the Google team battled their Pokémon first. Since their battle will never be scheduled, the position will never be open.