Get ready to defend your 16-bit world in glorious 3D.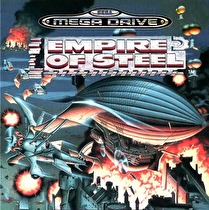 Steel Empire, a Sega Genesis shooter from 1992, will be released on the 3DS eShop this summer in America. The game is set to release soon in Japan, with no word on other regions.
After news of a Japanese release date surfaced, Starfish-SD responded to a user comment on their Facebook page, stating "we will release this game in the USA this summer. I will upload the information on this site. Please wait." The game has undergone slight improvements for its revival, featuring upgraded 3D graphics and a replay save ability at the end of each level.
The steampunk aesthetic of the game was inspired by Hayao Miyazaki's Laputa: Castle in the Sky and quickly became a cult classic, with Mega Drive originals in Japan selling for high amounts. Europe and Japan received a GBA port in 2004. A sequel was announced in 2012 tentatively titled Burning Steel.