A cool item for North American Club Nintendo members.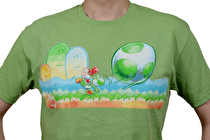 A T-shirt based on Yoshi's New Island is now available as a North American Club Nintendo Reward for 800 coins.
The green shirt shows Yoshi, with Baby Mario on his back, throwing a Mega Egg Dozer. The official Club Nintendo logo is also displayed proudly on the back. Those interested better hurry since the shirt is only available in limited quantities.