Get your haggling stylus ready for this 3DS eShop title!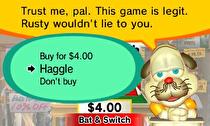 Rusty's Real Deal Baseball will be out on the 3DS eShop next Thursday. It is another one of Nintendo's free-to-play-styled games, following Steel Diver: Sub Wars.
The game features a series of baseball-themed mini-games. Initially, you only get one mini-game with the option to buy more. However, if you sweet talk and haggle with the titular character Rusty, you can receive more mini-games at a lower price than normal.