Due out later this year, Twisted Fusion makes use of different day/night cycles and weather events to keep the world fresh.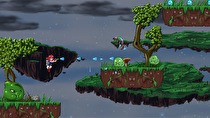 Twisted Fusion, 2D platformer, is a new Wii U eShop title coming later this year.
From one-man developer Leuvsion, Twisted Fusion is an open-world action platformer starring Cora, a girl who uses dual water pistols as her main attack. A day/night system and weather system is present, with the environments changing depending on what the time of day and weather is. For example, water hurts the enemies, so they're easier to kill but they become way angrier when it's raining. Another example are bigger enemies appear at night.
"The whole world is connected without level select, but you don't need to backtrack to progress." said creator Lewis Pugh. "Certain areas of the game can also be completed out of order."
The setup is that Cora, who has appeared in most of Leuvision's games, is stranded on a new world with strange creatures with just a pair of water pistols. She's trying to find her way home, but an enemy shrouded in darkness stands in her way.
Pugh's past games came out on mobile platforms (mostly iOS) and include Twisted Fates, Super Cora-Bolt 2, and Chipper's Tea Party.
Twisted Fusion is set for a Q4 2014 release exclusively on the Wii U eShop.