Fox McCloud's greatest adversary is back in assist trophy form.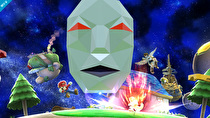 Andross will return as an assist trophy in the upcoming Smash Bros. games.
"Oh, Uncle Andross. He really isn't very considerate." developer Masahiro Sakurai mentions in the post. He also attached a picture of Andross on the field.
First making an appearance in assist trophy form in Smash Bros. Brawl, Andross is seen in his SNES form as opposed to later forms. In Brawl, he would float into the background of the stage and spit polygonal debris to all the players in the field, racking up damage. It isn't known if Andross will retain his ability, or acquire a new one.
Smash Bros. for 3DS and Wii U are slated for a 2014 release.