The plump bunny is hopping to your living room.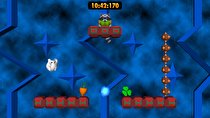 Chubbins, a Unity-developed game release, is coming to Wii U.
Dhaku, the two-man studio behind the game, is behind the release. Originally an iOS game, the developers are now porting it over to the Wii U.
The game follows a bunny named Chubbins in a platformer containing 40 levels across five increasingly challenging worlds which each conclude with a unique boss battle. He never stops bouncing, so quick reflexes are needed to make it in one piece.
Along with the port will be some enhancements, including "Soft" and "Hard" modes, Time Attack mode, and other miscellaneous features.
Dhaku is hoping for a release date in May.