Sonic gets to open treasures chest, get pieces of heart, and fight Stalfos. Also, Link's on a Loftwing.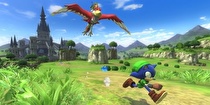 New Zelda-themed downloadable content is coming March 27 for the Wii U version of Sonic Lost World.
The free content is a stage with a Legend of Zelda theme. Wearing a green tunic familiar to Link's, Sonic's goal in the level is to slow down from his usual frantic pace and focus more on exploring content from previous Zelda games such as Skyward Sword and Twilight Princess. Rings are replaced by heart meters, and the free animals you collect in the game are replaced by rupees, although you'll be able to convert them once you finish the level. According to Sega, there are oodles of Zelda references nestled throughout the level and some might require multiple playthroughs.
The Legend of Zelda Zone for Sonic Lost World will be released on March 27.