Pass with flying colors in dragon flight school.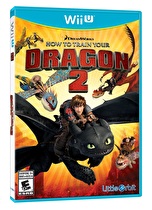 How to Train Your Dragon 2 has been announced for both the Nintendo 3DS and Wii U consoles.
The video game is set to coincide in June with the DreamWorks motion picture of the same name, which debuts on June 13.
The game will set players in a dragon flight school with tournaments, mini-games and training exercises for all their dragon riding mastery needs. There will be multiple riders and dragons to choose from.