The Kickstarterted Wii U and 3DS eShop game won't hit its March 31 release date.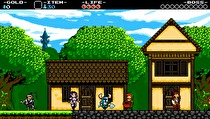 Shovel Knight is being pushed back from its scheduled March 31 release date on Wii U and 3DS to give the developer some breathing room in the final parts of development.
Yacht Club Games said in a Kickstarter update that the delay will just be a few weeks "to make sure it's a world class experience, and can release on all platforms simultaneously." However, the studio didn't give a new release date, saying "[they] don't want to announce another release date until it's 100% locked in with both Nintendo and Steam."
While major development on Shovel Knight is done, the studio is preparing for the submission process and also has a few other finishing touches including dialogue and scripted events, game balancing, testing, and more.