Time to get yourself a new virtual girlfriend.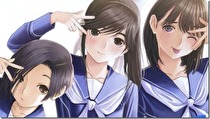 On March 27, players will see Konami's New LovePlus+ come to the Nintendo 3DS. The game features three girlfriends, Rinko, Manaka and Nene, that players can take on dates, play mini-games with, or even have conversations with.
In Anywhere Date mode, players can model their own date course to real-life dating spots. Settings to control things like season, weather and time allow for further customization and the 3DS camera even lets you snap pictures of your date for your next scrapbook.
Three mini-games, including a shoot-em-up called Twinbee which will also be available on eShop as a 3D classics title, will be free for you to play cooperatively or competitively with your new girlfriend.
LovePlus mode utilizes the 3DS mic to have conversations with any of the girls you'd like. Topics can vary by girl and change with her mood, and each girl can contact you on her own depending on time settings in the game.
Finally, a data transfer tool will also be available through the eShop to transfer LovePlus and LovePlus+ data.