Get a taste of the giant death robots, complete with goodies and a rollover save.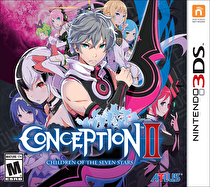 The Conception II: Children of the Seven Stars demo will be available to download on March 25 in North America for the 3DS and PS Vita.
The demo will let players carry over their save file to the full version when purchased, so no dungeons will have to be re-crawled. Players can also earn a set of "bonus goodies" if the demo is successfully completed. No details were shared regarding these, but since giant death robots will be on your side already, they're probably worth playing for.
Conception: Please Have My Baby, the game's precursor, released only in Japan in 2012 but was well received. This time around, North America will be getting this RPG on April 15. The game will be released in Europe as well, though no confirmed release date has been revealed.