Developer Saturnine Games submitted the 2D platformer to Nintendo for release.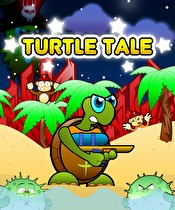 Turtle Tale, a platformer coming to the 3DS eShop, is set for a spring release, as long as the game gets through Nintendo's internal testing without any hitches.
The 2D platformer follows Shelldon, a mean-looking, water gun-wielding turtle who is on a quest to reclaim Turtle Island from Captain O'Haire and his gang of pirates.
Developer Saturnine Games also dropped a new batch of screenshots, which can be viewed in the gallery below. If you would rather get the full effect, a QR code is also below in order to view the 3D screenshots on your 3DS.