Twenty years of monkey business and counting.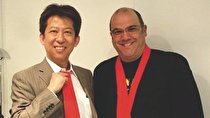 Donkey Kong Country: Tropical Freeze creators Michael Kelbaugh and Kensuke Tanabe were recently interviewed by Official Nintendo Magazine. They dove into not only the features and characteristics of the new DK title, but also the long, fruitful history of the franchise.
Both Kelbaugh and Tanabe have been involved with the series since the days of the original Donkey Kong Country, though not always working directly together. Tanabe explained, "20 years ago, I worked on the localisation (the Japanese version) of the Donkey Kong Country series under Miyamoto-san...At that time, I never had an opportunity to meet Michael directly. Only, after 10 years, when he became president of Retro, we finally got to speak face-to-face."
The two also went on to explain why they think Retro is able to hone in on the strengths of the franchise. "There is an entire legacy of video gaming veterans still working at Nintendo that we continue to learn from," Kelbaugh stated.
Tanabe also mentioned that a lot of people that work at Retro are much younger and played Nintendo games when they were kids. "I believe that, because they know how much fun it was to play the games themselves, they are extremely passionate to make current users feel exactly the same way. What I can do here is to explain to them the ideas behind the Nintendo games that they enjoyed in their childhood. Maybe that's the reason why they were able to recreate the fun of Nintendo games without losing anything."
And without losing anything, Retro has made a number of refinements with Tropical Freeze. A lot of time was spent working on the fur (as requested by Satoru Iwata) and increasing animation quality. David Wise, the original composer of Donkey Kong Country, was also added to the project. "This, combined with Kenji Yamamoto and Scott Petersen, lent itself to a simply amazing soundtrack and special effects effort," Kelbaugh said.
Features were also implemented so players can play at whichever difficulty they choose, although this does not mean that the difficulty has been lowered. Kelbaugh added, "You may recall that the original Donkey Kong Country series on the SNES was hard. Very hard! If we were to make Donkey Kong Country: Tropical Freeze easier, it really wouldn't be a Donkey Kong Country game, would it?"
Here's the full interview, in which the two creators share their favorite levels, talk about team relationships, and guarantee you won't be disappointed.
Donkey Kong Country: Tropical Freeze released February 21 in North America and Europe and February 22 in Australia for the Wii U.