The Caped Crusader is returning to the Wii U!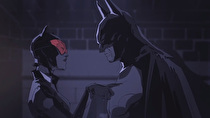 Batman: Arkham Origins Blackgate - Deluxe Edition has been announced for the Wii U.
Originally released for the Nintendo 3DS in October 2013, the game will now see an HD, digital-only release for the Wii U and other systems in North America on April 1 for $19.99, and in Europe on April 2 for £15.99.
The HD edition will bring a number of minor changes, including a new map and hint system that helps the player track objectives and navigate more easily, improved 2.5-D graphics, and a fully voiced narrative. When you register for a Warner Bros. ID account, you'll also be able to unlock the exclusive Zero Year Batsuit.