A first look at Mario gulf.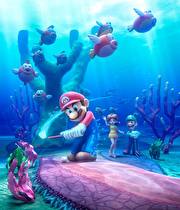 Nintendo revealed images of Mario Golf: World Tour's Cheep Cheep Lagoon this morning via Twitter and Facebook. The course will contain "lots of obstacles to help and hinder play" and will feature different physics to match the underwater location.
While Nintendo of America's tweet only displayed one photo of Mario swinging underwater, the Nintendo 3DS UK Facebook page also unveiled a top-down map of the course and a landscape overview.
Mario Golf: World Tour is coming to the 3DS on May 2 in North America and Europe.