It still has some catching up to get to the sales of DS.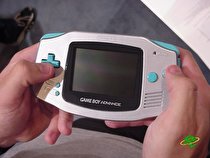 The Nintendo 3DS is currently outpacing Game Boy Advance sales in Japan.
Media Create, a Japanese sales tracker, reports that in its 154th week the Nintendo 3DS has sold around 15 million units. This is up from sales of the Game Boy Advance, which were at 11.64 million units at week 154.
Despite the Nintendo 3DS's success, is still far away from reaching Nintendo DS sales, however. The 3DS's predecessor sold 20.16 million units by its 154th week.