Catch up on the origin story for the crazy soccer RPG series.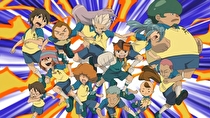 The first title in the Inazuma Eleven series is available for purchase right now from the Nintendo 3DS eShop in North America and Europe, excluding the UK.
Developed by Level-5, the game began life on the Nintendo DS, launching as a Japan-only title in 2008, before spawning several sequels across multiple platforms. Three entries in the series were eventually localised for Europe but not the US, making this eShop release the first time an Inazuma Eleven game has made it to North American shores.
It is currently unknown if the UK will receive this downloadable version in the future.