Bowser's raucous offspring will be on the starting grid when Mario Kart 8 rolls in.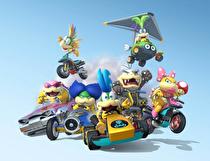 Mario Kart 8 will be released for Wii U on May 30, as revealed in the latest Nintendo Direct presentation.
A brand new gameplay trailer revealed that for the first time in the series, all seven of the Koopalings, who originated in NES classic Super Mario Bros. 3, will feature as playable characters.
In addition, new vehicles and tracks were also showcased, including a number of returning retro courses from past instalments in the franchise.