Metroid's prolific villain is headed to the upcoming Smash Bros. games.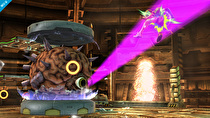 Mother Brain from the Metroid video game series has been revealed as an assist trophy in the upcoming Super Smash Bros. sequels for both the Wii U and the Nintendo 3DS.
"Pic of the day. Housed within the Control Capsule! Protected by Rinkas! Eyeball armed with a Laser Brain Attack!! The massive Assist Trophy Mother Brain joins the collection!!" Masahiro Sakurai revealed today via his Miiverse Director's Room alongside a picture of Mother Brain blasting Samus with a laser beam attack.
Mother Brain is best remembered as the main boss of both the original Metroid for the NES as well as Super Metroid for the Super Nintendo. Previously, she had only appeared as a sticker in Super Smash Bros. Brawl for Wii.