Leave your friends a tip, or a shovel to the face; the choice is yours!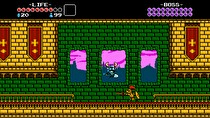 Using the Wii U's Miiverse platform, Shovel Knight will allow players to leave tips on a room by room basis to others.
Though Yacht Club games did not initially include specific details last November when it announced Miiverse and StreetPass integration would be coming to Shovel Knight, developer Sean Velasco recently announced that the game would allow players to use these functions both to leave tips for other players and also for competitive experiences.
Players will be able to access Miiverse via "The Diggers Diary" (a temporary name) button on the Wii U GamePad. They can use this feature to explain locations of items and strategies on defeating enemies, or whatever else provides for "creativity amongst the players", according to Velasco.
"The cool part is that it's room-based," Velasco said. "Every time there's a room where you don't know what to do, or if you just want some more information, you can tap on this diary. [You might] leave a message for other players or get a message yourself, or maybe learn a little more the same way you would trade secrets on the school ground."
In contrast to the cooperative focus of the Miiverse integration, the Nintendo 3DS version of the game will include competitive experiences using StreetPass. For certain levels, play will be recorded and compared to other player's recorded data via StreetPass. For these competitions, players will gather gems or attack the opposing character with whatever attack that the player recorded. Players will be able to view the battle and adjust their strategy accordingly.
"We've done it, and it's just ridiculous," Velasco said. "There are some goals that you're all going for, but you don't know what the other player is doing. You don't know which gem they're going to go for first. You don't know if they're going to use a weapon ... It's just craziness because you do it in these little five second rounds, and you do three rounds over and over. And then it's just done."
Velasco hopes this game will feel like a modern game, going hand-in-hand with its retro appeal.
"It's a classic-style game, but we're trying to do as much as we can with whatever modern tech we have," Velasco said.
March 31 is the expected launch date for Shovel Knight for both Nintendo Wii U and Nintendo 3DS.