Lack of demand for extra content means that the story ends here for Wii U owners.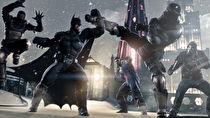 The Wii U version of last year's action-adventure title Batman Arkham Origins will not receive the previously announced downloadable content.
Users who purchased the game's Season Pass, which had been sold for $19.99 in North America and £15.99 in the UK, will receive a full refund to their Wii U eShop account.
According to separate statements released by both Nintendo and Warner Bros. Interactive Entertainment, the five pieces of DLC, which include two short add-on campaigns, were cancelled on Wii U due to a lack of demand for additional content on the system.