'Monster Hunter 4 goes G' whatever that means.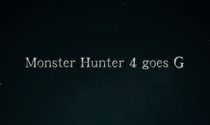 At Monster Hunter Festa '13 Final Round, Capcom announced Monster Hunter 4G for 3DS, the expanded version of Monster Hunter 4, which sold more than 3 million copies in Japan since it was released in September 2013, and released a trailer. Monster Hunter 4G is scheduled to come out in fall 2014. Players of Monster Hunter 4 will be able to transfer most of their save data to the new game.
Capcom also released a video online where Series Producer Ryozo Tsujimoto announced Monster Hunter 4 Ultimate for 3DS, the equivalent of 4G, for gamers in North America and Europe. Just like Monster Hunter 4, 4G/Ultimate will feature vertical and lateral movement and support free online multiplayer. Monster Hunter 4 Ultimate will be available in early 2015. There was no word on whether a Wii U version of Monster Hunter 4G/Ultimate may be forthcoming.