Cue region-locking hatred.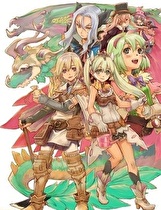 An announcement today from MarvelousAQL Europe revealed that Rune Factory 4's European release has been canceled.
The game released originally in Japan back in July 2012 and in North America during October 2013 to favorable reviews. It was set for a Spring 2014 release in the EU, but despite MAQL's best efforts to release it as planned, they stated this morning that "it is, unfortunately, not possible to do so at this time."
No specific details on the cancelation have been given yet, but speculation cites last year's declaration of bankruptcy from Neverland, the Rune Factory developers, as the probable cause. Although the future of the Rune Factory series looks a little uncertain, after Neverland's announcement in November, Rune Factory producer at MAQL Yoshifumi Hashimoto had this to say to the fans:
"As of now, it'll still remain a secret as to what kind of title we'll be releasing next, but I can say that the staff members are still doing great.
I will leave it at that for now, and I thank you for your continued support."