The 8-bit shoveler continues to progress.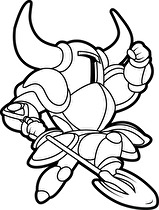 Shovel Knight has entered the alpha cycle of development, according to Yacht Club Games. The NES-style action adventure game is planned for both Nintendo 3DS and Wii U. While no release date has been set, Yacht Club indicated that it would be "Past Winter," adding further that this meant past March/April.
The game was originally pegged for a September 2013 release date, based on the delivery date of the Shovel Knight Kickstarter page. No comment has been given by Yacht Club Games on why the game has been delayed, but given the funds raised for the game more than quadrupled the initial target total, and more and more features were added as stretch goals, one could surmise that the game was pushed back to accommodate things such as playable boss characters, multiple platforms (the game was initially pitched as a PC exclusive) and multiplayer modes.
For more information on Shovel Knight and Yacht Club Games, see the Nintendo World Report interview with the developer from April 2013, while the KIckstarter was underway.